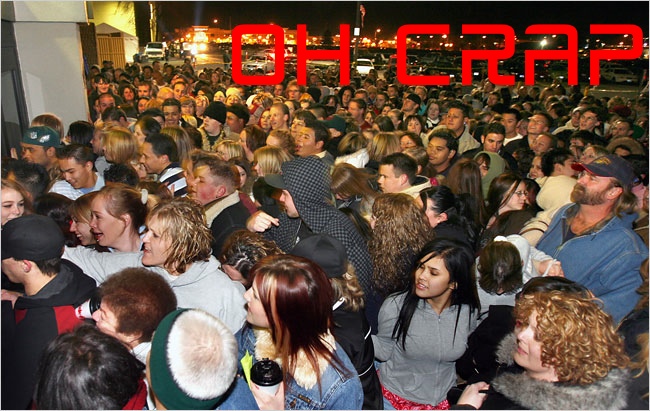 Go here for a follow up of photos taken by our very own art director, Steven "Pocket" Uppinghouse.
A bunch of us here at Cleverpork Central are kinda excited about today because it is black friday. We aren't necessarily pumped to go buy a bunch of cheap stuff, what we are more excited about is watching crazy people and maybe a little bit of messing with people. So stick around here and watch for our live blog of the event!
21:42 We've met at Charlie's place to plan our night. Pocket just farted at me.
21:50 We have discovered that Charlie has a lot of "bored" skills
22:19 We left for downtown Portland to pick up Derek. In the car so far are Pocket, Charlie, Aaron and me.
22:22 just had a stunning chorus of Sax Man
22:27 Macho Man Randy Savage!!!!!!
22:34 shoot! Derek isn't even ready. Still in a concert.
22:38 We've stopped at UO's Portland campus. Pocket goes to school here.
22:50 Charlie just finished a shirtless photoshoot. Look for them around here in the future!
23:00 Back in the car, headed to Washington Square without Derek. Were going to try to get some city shots.
23:07 singing along to "Don't go chasing waterfalls"
23:17 on the roof of the mall parking structure.
23:19 looking at toys R us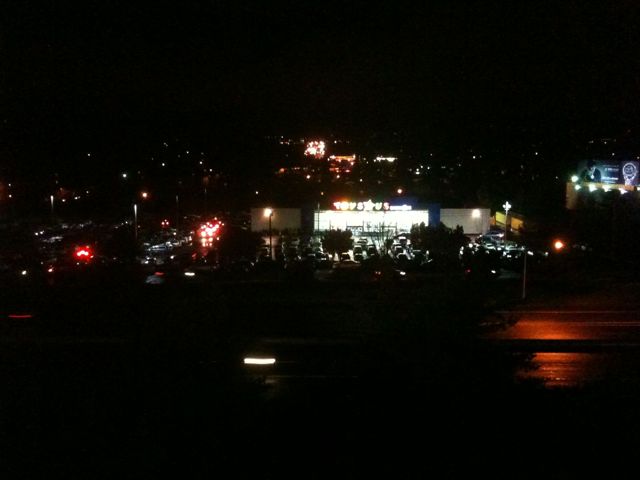 23:27 the line at T-r-u is Insane! Probably about 300 people. I'll be our photographer inside so we can be covert.
23:29 Charlie: "Theyre bringing their f***ing baby?! It's f***ing midnight!! Horrible f***ing parents!!" yelled at t-r-u from a quarter mile.
23:34 r e s p e c t. Find out what it means to me.
23:36 moving to T-R-U for our first opening!
23:40 o s*** a Rock Lobster!!!
23:42 parked in the Staples parking lot and getting ready to head over!
23:43 we are in an exodus of people walking to TRU
23:45 car stuck in the ditch!
23:47 DEREK IS HERE!!!
23:48 We're next a group who "just needs a pony!"
23:50 I'm thinking about interviewing people in line. But soon the line'll be moovinh
23:51 there are already people getting ready to cut pissing off the line. We don't even have to do anything.
23:53 people at the front are seething.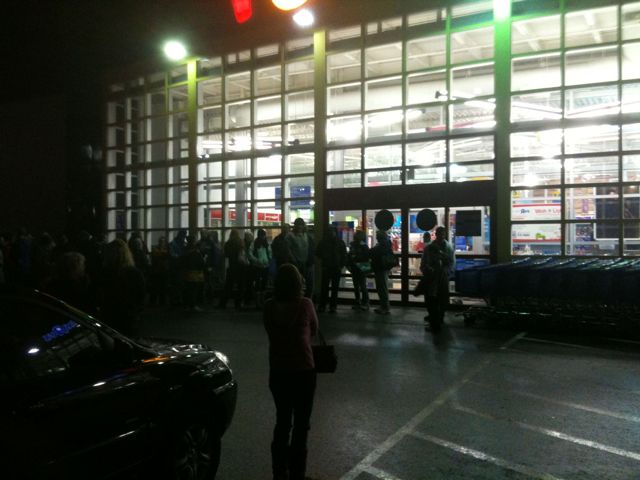 23:55 t minus 5. Employs manning battle station.
23:56 soooooo many people are not in line but standing here. I doubt all of them are like us and just here for the show.
0:00 TRU is open. Just took a vid. YouTube link!
0:02 Derek is posing for pics.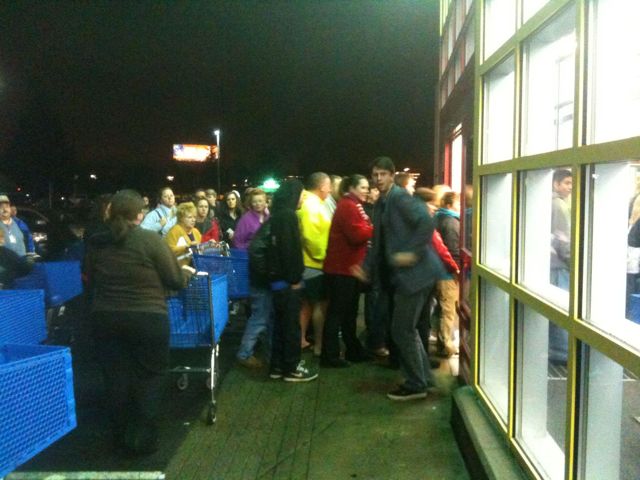 0:03 woman in line "hey hey hey the line is all the way back there. We've been here for 3 hours!"
0:05 Charlie: "if they weren't all such pussies they'd be pushing!"
0:09 the line still goes past the parking lot. People are going in the exit and cutting in line. Not even waiting outside.
0:12 dude drove by said, "there's a whole bunch of Jews here!"
0:14 Charlie just half convinced two people that they were being ticketed.
0:21 we saw Nick, Charlie's twin.
0:25 we just took a cleverpork central blogging team photo. Look for it.
0:28 We're going to check out the line.
0:34 Pocket is taking some pics of the back of the line.
0:45 Aaron just told us a horrendous life story involving pee-ing in public.
0:49 we quit on TRU, we are going to go light a fire at Charlie's place. In a fire pit.
0:53 YES. People ARE sitting outside of Staples.
1:03 we lined up at circut city for 5 minutes. Then we remembered that they are out of buisness.
1:34 we got our fire burning. We're sitting around and chatting. Eating some trail mix.
1:51 being away from my phone for a bit for charging. Catch you soon!
3:00 T-Bar bibs BBQ!
3:12 phone mostly charged. Going to grab some energy drank. Our next store is Best Buy. Opening at 5:00.
3:20 got some coffee!
3:35 Pocket is taking some photos of Target before we head out for Best Buy. We'll be back to Target later likely.
3:42 people at Target: "Are we going to be on TV?" "I've been here since midnight!"
3:50 back at TRU. No line, going in this time.
4:06 all the toys in TRU are s***. Also we're starting to crash. But we're ditchin' this joint. Also they're out of zhu zhu Which makes me sad.
4:27 we're at Best Buy. We met Kevin, who works here. We might get mcdonalds soon. But now we're going to check out the line.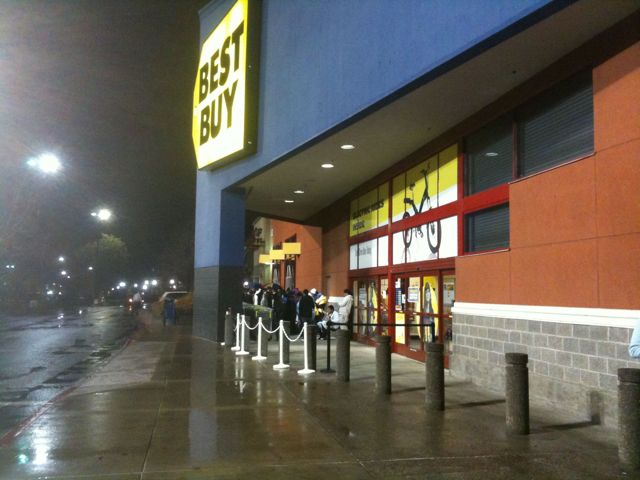 4:34 Charlie: "I don't have the energy to be an asshole right now"
4:49 a Best Buy security guard told us to stop taking pictures. We moved down the line and kept at it.
5:08 we're going to Shari's. We hungry.
5:14 no line at Shari's
5:44 I just watched Pocket squirt ketchup into Charlie's mouth. I'm disturbed.
6:02 finishing up at Shari's.
6:18 enjoying donuts and juice at Fred Meyers.
6:23 we're each missing a 5th of our soul. Therefore it feels like we're missing someone.
6:27 we're sitting on Fred Meyer's furniture, some of us are drinking juice or coffee. And we are talking about whether it'll match a home that we don't have.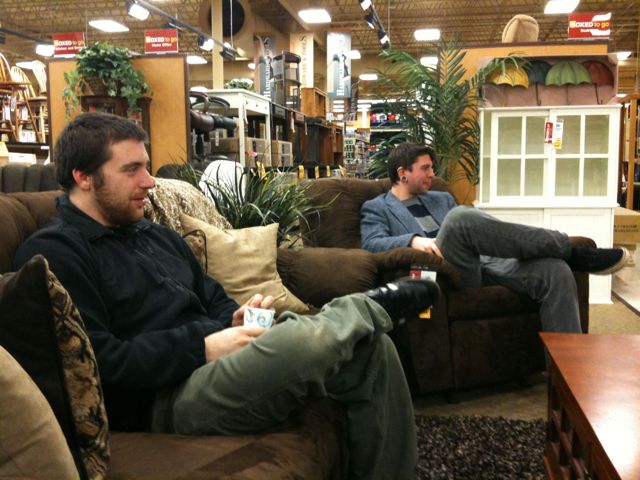 6:42 We're on the phone with Drew! And we're loosing our minds! Aaron spilt his coffee on some shirts.
6:45 two people walked by in costume. Also T-bar bibs.
6:57 we're headed back to best buy for a bit then we are probably done.
7:02 back in Best Buy.
7:27 we've left Best Buy. Charlie made the only purchase of our night. We're headed home.
7:28 rocking out to Girl Talk
7:31 also, we lost Derek when we left BB. Meaning he headed home.
7:39 it's nice to have some light out.
7:41 back at Charlie's place.
Concluding Comments:
Chris — I hurt all over. I'm tired. I wanna go to bed. But we have learned a few valuable things this past 12 hours. If you carry around a camera, people think you're reporters. People are kinda jerks to one another when it comes to buying cheap crap for their kids. And Cleverpork Central is going to get a logo and press badges soon. we're excited.
Aaron — Hey, I just woke up! It's now nearly 10 p.m. on Friday, and I'm finally catching up on some much-needed rest. To summarize the event: Black Friday is an ordeal, an occurrence, that needs to be experienced at least once in your life. It's not even about the shopping deals — it's about witnessing the sad qualities of human existence under the pretense of shallow consumerism. Like Chris mentioned above, people are jerks. The amount of f-bombs and racial epithets that were dropped somewhat surprised me, especially at a Toys "R" Us! And yes, it really does only take a notepad and a professional-quality camera to get people to think you're with the news, and to ask if they'll be on TV (no journalism degree required). All in all, it was fun to be with friends whose collective purpose it was to heckle and showcase the absurdity of standing in line for up to 12 hours just to get your kid a big wheel for half off, or some ridiculous Furby 2.0 toy because some advertisements told you it was "hot" this year.