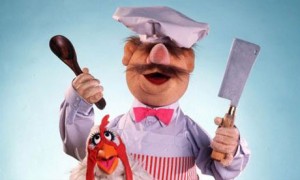 Trenton, NJ
Beloved secondary Muppet Swedish Chef announced today that he, and other Muppets, have been lip syncing their performances since the early days of the Muppet show. According to the Chef the Muppets, before they would go and perform, would be entered-via a hole in their back, by another actor who would then control the actions and speech of the Muppet. "Its degrading, and borderline wrong!" Cried a tearful Chef, who, after years of therapy, felt that is was finally time that he come clean about his misgivings and let the fans of the works of Muppets know the truth. "We were puppets! There was nothing real about what we did, it was the actors that made that show what is was. They as much as anyone deserve to have the truth reveled so they can start to get such long overdue credit".
As the press conference went on, the Chef became more apologetic to his fellow Muppets who he claimed "need to see themselves for who they are" and to "stop trying to be something they are not". When asked if he felt he was unfairly throwing his co-stars under the bus the Chef admitted his announcement comes from a very selfish place, but "admitting to myself that I was a puppet was the most liberating moment in my life. I see my co-stars regularly and so many of them suffer from the same identity issues that I did for years. Its hard to know who you are when you are controlled by someone else". The Chef insisted that he thought deeply on how such an announcement would come to affect the careers of Muppets who are currently employed and that any work they had was not there own-it was the actors who controlled them. "Im talking not just about personal freedom, I want Muppets everywhere to start to act on their own accord. To create art that is their own. No, this will effect the lives of Muppets everywhere I know it will. I can only hope that they will see this as a breaking of bondage and not a loss of self".
The announcement has already pushed many of the Muppets to stray away from public appearance, declining to make statements on the Chef's allegations. Only a handfull of Muppets, lead by Muppet Union Organizer Beeker, have come out in support of the Chef and are happy to know have a chance to show the world just how creative Muppets can be without someone inside them. "Mmeee me mee meee me, mee meeeem meee. Meee me mee meeee me me meeeem meeeeee", said the Union leader on his way to a meeting with others politically invested in Muppet affairs, "Mmeeee meme mmmeeee me!".