Well, finals are over for a large portion of the writers of Cleverpork Central. Now it is time for Winter Break. We made it safely back to Portland, and I made sure I took no time before setting up the Cleverpork Central Winter Break Headquarters. Our temporary headquarters are located in My family's house adjacent to the Wiki Creek Field Station Below you'll find the description of the various components that make up our Winter Break Headquarters.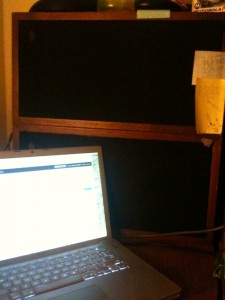 Editing Station
The Editing Station is accompanied by two large speakers stacked on top of each other. This creates a "wall of sound" that gives me the inspiration to write kick-ass articles. Not visible in this photo is the "Superscope Stereo Reciever" which runs the speakers and gets me both FM radio and also picks up my computer output. Behind the computer are some bongos in case I get that jammin' mood. Also not pictured is the external keyboard and mouse currently being used to run the show.
Gaming Station
Right now this is my TV and Xbox hooked up to the interwebs. This allows me to relax and regain my creative juices in between article writing sessions. Already I've played some games. That is why this article is going up over 5 hours after I got home. There is a chance that I am going to get a monitor cable soon to connect my computer to this screen and if that happens, then our headquarters will be BOMB.
Writing Station
This is my non-electronic writing station. This is where right ow a letter is being written and soon I may be working on grad-school applications. Also note how the lamp shade on my lamp is actually too short for the compact florescent bulb that I have in there, so I am using a sheet fo paper to keep it from blinding me.
Sleeping Station
This is where I'll be sleeping. While there is no teddy bear to hang out with me I do have a giant ominous cat face which I sleep on every night. Also the bulletin board may be used for some epic Cleverpork Central post design. But no guarantees yet. It is placed in a location that causes things to fall off whenever I turn over in bed.
Well, there you have it dear readers. The Cleverpork Central Winter Break Headquarters (CCWBH from now on). Hopefully, with this extra time we will be bringing you all some wonderful material over the next few weeks. Keep your eyes here folks!