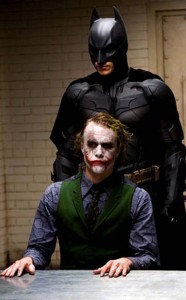 This week the louvre announced that it will be displaying The Dark Knight as possibly a permanent installation to the museums already massive collection. The Director of the Musée du Louvre had this to say "We put a lot of thought into it and found the movie to be quite simply a master piece."
The movie is to be installed right next to the Mona Lisa, where it will be displayed on a large flat screen set into the wall and will loop indefinitely. Along with several choice frame stills to complete the display. Of Course this ruffled some Parisian feathers with the museums choice of hanging it next to the Mona Lisa.
"It is a disgrace to the Mona lisa," claimed Jacques Yves, a local Parisian "No one will even look at the Mona Lisa, we might as well not even have it!" Though some are quite excited about the museums decision with a lot of chatter across the Internet. La Petite a modern French design and art blogsite had an article praising the museum for its plans to install the work, calling the exhibition "daring and well deserved."
Many of the films cast and crew plan to attend the opening of the exhibit, which is set for late February. Batman himself, Christian Bale, will be there along with the 1960s Batman, Adam West, who stated he is happy to be finally known for something other then Family Guy. Other Hollywood stars will be in attendance including Ben Stiller, who forced himself onto the guest list claiming that he needs to be there to protect everyone.
edited by: Aaron Thayer