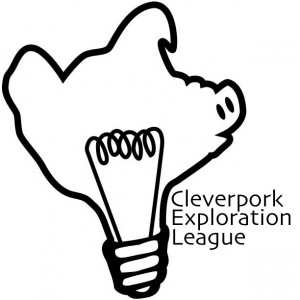 A couple of weeks ago, I was honored to hear Don Walsh give a talk about his descent to the deepest place in the ocean. Something he said early on in his talk that resonated with me was that exploration is just acting on curiosity and it is built in to the human experience. At some point however, most humans seem to loose their sense of exploration. His talk included very little, if any, science. However, it made me think more about exploration.
I would like to introduce you all to a little side project I am founding. It is called the Cleverpork Exploration League. Our ultimate goal is to be able to purchase a sea-going vessel, and maybe some submarines, travel the world and make movies about our adventures. Maybe buy something like this or this or this or this.
Many people first learned about the ocean world by watching movies about people's adventures in the ocean. Movies by explorers like Jaques Cousteau. These movies don't have to be all about the biology of the oceans. In fact they are more about the act of the exploration. One of the things that made me realize I had this dream was watching The Life Aquatic with Steve Zissou. This movie has nothing to do with biology. It isn't even real adventures. But it makes you want to explore and be a biologist. I think it is vitally important to make our world seem like something awesome that people should check out. Planet Earth is a cool show but it doesn't make me want to go out into the world and look at it.
All of this links back to my philosophy about education. It isn't important to teach people everything they need to know. What is important is to get people to want to learn everything they need to know. The knowledge is already out there, now we need to get people to be excited about learning it. I don't want to make movies explaining the natural world, I want to make movies that make learning about the natural world seem awesome.
Stage one of this project is to build the Cleverpork Exploration League. This means I need to generate a place where people go and explore the world around them and document it in some way. My vision is to provide a place where people can document the world around them in cool ways. Maybe I have a couple fo scientists who answer questions about what people observe. The key is that I want to make something beyond me, Something everyone can participate in.
So here is my challenge for all of you: Go and do some exploring somewhere nearby in the name of the Cleverpork Exploration League and document your experience in some way. Whether it is a movie or photographs or a written story. Have fun and make people see that you're having fun.
For now, post links to your expeditions in the comments or e-mail them to me. I'll even feature really cool expeditions right here!
Remember that we're all born explorers, and we don't need to loose that trait.