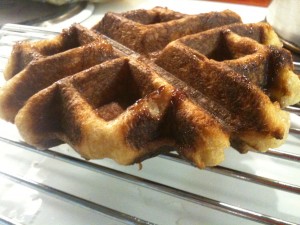 In Eugene the last couple years a new food slowly surfaced. Off The Waffle opened and introduced me to the greatest waffles ever made. I've since moved back to Portland, and here I was dying to have a Liege waffle.
First, Liege waffles are one of two kinds of waffles from Belgium. Often when you get a "Belgian Waffle" you are ordering a Brussels style Belgian waffle. Both Brussels and Liege waffles are named after cities and are both Belgian waffles. True belgian waffles are also prepared as a dough, not a batter, but are still cooked in a waffle iron. The most notable difference between a Brussels and a Liege waffle is that Liege waffles use pearled sugar, kind of like broken sugar cubes, to create a carmelized, crispy sugar shell on the outside of the waffle. It is a delightful taste and I'd reccomend getting one made by a professional, but if that is not possible the next best option is to make it yourself.
This is where I come in. I made some today and they came out wonderfully. I found a recipe through google, but couldn't find pearled sugar. Instead I bought sugar cubes and broke them into pieces (~1 cm). Everything else is pretty standard cooking/baking supplies. I hope you enjoy!
(recipe after the break!)
Liege Waffles
1 (1/4 ounce) package yeast
1/3 cup lukewarm water (about 105 degF – too hot will kill the yeast)
1 1/2 tablespoons granulated white sugar
1/8 teaspoon salt
2 cups flour
3 eggs
1 cup melted butter
1 teaspoon vanilla extract
3/4 teaspoon ground cinnamon (optional)
1 cup pearl sugar*
Mix the yeast, water, sugar and salt in a bowl and let it develop or sit for 15 minutes.=
Place the flour in a separate large mixing bowl (we use the bowl of our kitchen aid stand mixer) and make a well in the center of the flour.
Pour the yeast mixture into the well and mix until blended on medium speed (we use the paddle in our kitchen aid mixer).
Add the eggs (one at a time), melted butter a bit at a time, and the vanilla and cinnamon. Be sure to mix well after each addition to the batter. Keep in mind the batter will be thick and VERY sticky (this is normal).
Remove the bowl from the mixer and let the dough rest until it doubles in volume inside the bowl. (took me a little more than an hour or so)
Gently fold in the pearl sugar and let the dough rest for 15 more minutes.
While the dough is resting, heat the waffle iron.
Spoon about a 2″ ball of dough into the center of the waffle iron (this should yield a waffle that is about 4″ in diameter). I know that sounds small, but these rich waffles pack quite a punch. Waffles will take 3 to 5 minutes to bake (Mine took a little less than 3 minutes. But if you drop the heat level to about level 3 you'll probably get better results and closer to a 3 minute cook time).
Recipe makes 8 – 10 waffles.