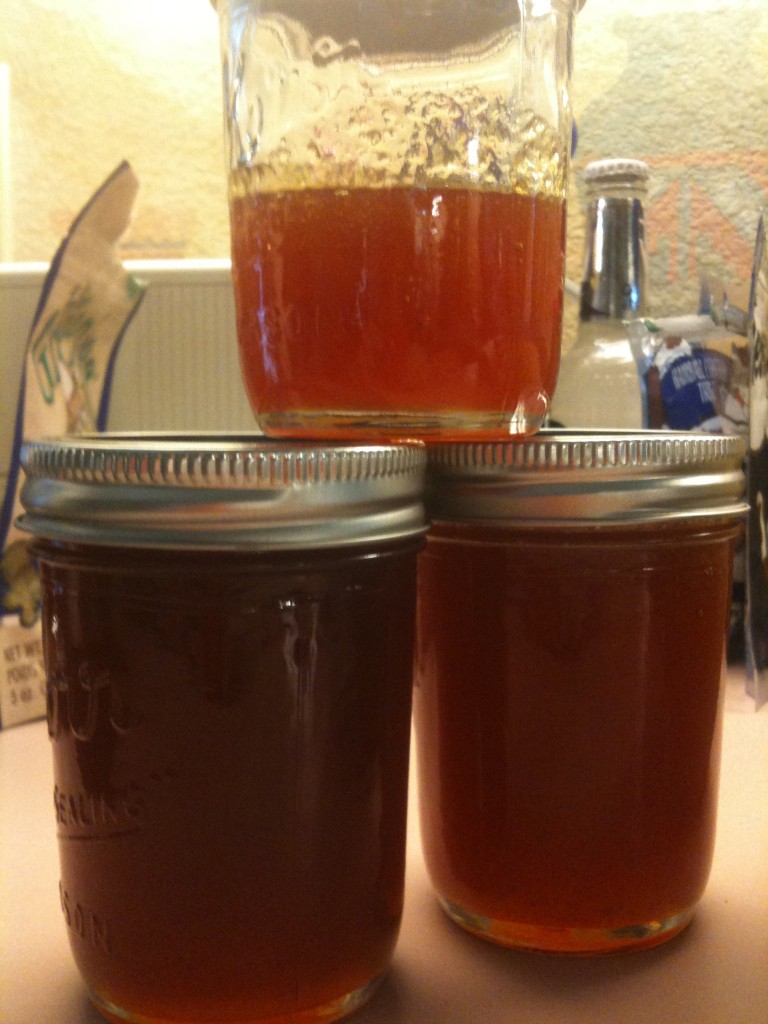 Like I may have mentioned earlier, I started following a new blog called Tasteologie. One of the first recipes I saw on there that I wanted to try was Watermelon Jam. It would give me something delicious as well as add another technique to my cooking skill list: canning. The result is a delicious (though I only tasted the stuff that was still on the funnel I used to put the jam in the jars) brightly colored jam.
However, i should note that the recipe is suposed to make 7 jars and I wound up with 2.5 jars. Some of that is because I lost some after starting in far too small of a pot. Some if it is also likely due to me boiling off more water than I was supposed to because I was using an IR thermometer when  I should have been using an insertion thermometer. Therefore my Jam may turn into watermelon candy instead of watermelon jam, but i have hope.
Update: It is very thick, but VERY delicious! expect more canned things in the future too!
The recipe follows the break!
Watermelon Jelly
adapted from
Food in Jars
makes about 7 eight ounce jars
6 cups pureed watermelon (remove any seeds prior to pureeing)
5 cups white sugar (I think next time I'd add 4 or less)
1/2 cup bottled or fresh lemon juice
1 packet powdered pectin
Combine watermelon puree, sugar and lemon juice in a large, non-reactive pot. Bring to a boil and let it boil vigorously until the temperature of mixture reaches 220 degrees. Add the powdered pectin and boil for another five minutes.
Remove from the heat and pour into clean, sterilized jars. Wipe rims, apply lids and screw on bands. Process in a boiling water bath for 10 minutes.
When time is up, remove from canner and let jars cool completely, preferably overnight. When they're cool enough to handle, remove rings and test seals. You can eat immediately or store unopened jars in a cool, dark place for up to a year. Print up some pretty labels (I used the template from here found at this cool site) and start scheming.