Yesterday I was stunned by Pat calling me and telling me he needed me. I ran downstairs to see Him and annother person, Mike, running up to me. Mike held up a photo and said, "we need to recreate this"
Next thing I know, I am kneeling outside on wet pavement recreating a photo.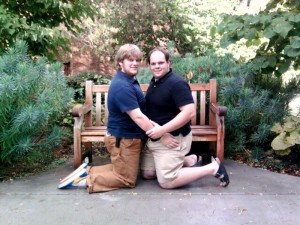 Further, that evening I was informed that I will now be flying down to LA to see Ellen. Because we here at Cleverpork Central are here for you, dear readers, I will be attempting to live blog as much of this experience as possible. Stay tuned right here for the updates!